Children are not just our future. They are the gift of our present.
For I know the plans I have for you, plans to prosper you and not to harm you, plans to give you a hope and a future. - Jeremiah 29:11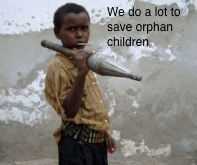 Children soldiers. Doesn't seem right to think about children carrying weapons that could actually hurt people. But children soldiers do this and much more.
Children soldiers are young. By the time they turn eight they are aiming semi-automatic guns like seasoned professionals. If they somehow make it to their sixteenth birthday, they have learned to hurt, torture, and kill over and over again.
Children soldiers are orphaned through warfare. They are vulnerable. Often, they are afraid. They have no means to support themselves. No jobs. No schools. No effective government to protect or provide for them.
Children soldiers are stolen from their childhood. Many are abducted from schools and taken to training camps to support terrorist organizations.
Children soldiers have lost everything - their families, their friends, their sense of innocence.
SORPHAN is a non-profit association dedicated to putting an end to the senseless exploitation of orphan children who are forced to become soldiers in the most disadvantaged countries of Africa, including South Sudan, and Somalia. For years, these countries have been ravaged by civil wars, leaving thousands of children without families or homes.
Our mission is to assist in the proper education and development of these children soldiers. Our efforts give them the chance to live a life without war or violence. Our hope is to give these children a true sense of peace that will last them a lifetime.